Guest blog by Sasha Gibb, a consultant who is leading the Public Voice: Common Ground project
The importance of public realm
Following the Good Friday Agreement, the British-Irish Council (BIC), was set up to promote mutually beneficial development among the people of these islands. This year is the Agreement's twenty fifth anniversary and Jersey was invited to join all jurisdictions for the inaugural symposium on placemaking.
I was asked by the Government of Jersey to present the insight of Public Voice: Common Ground at the BIC in Cardiff. I attended the symposium alongside Government officers and Mike Waddington the Jersey Architecture Commissioner.
The pressures on our public realm, our communities, and the complexities of working cross sector to address these are universal. The keynote presentation, given by Michael Schwarze-Rodrian on Emscher Landscape Park, was an inspirational case study. It demonstrated long term vision, investment and a desire for stakeholders to embrace change and create something that was unimaginable yet rooted in the community's industrial identity.
Presentation: Research
The aim of Public Voice: Common Ground is to support communities through better, more relevant public space. It does this through enabling public voice to impact decision making in the public realm and facilitating a partnership between government, business and community.
Research was started early last year and current engagement figures are at around 2,000. The common theme across all feedback concerned St Helier, with a cry for more trees and 'more places to hang out with no agenda'. People wanted more green space, less cars and less new buildings.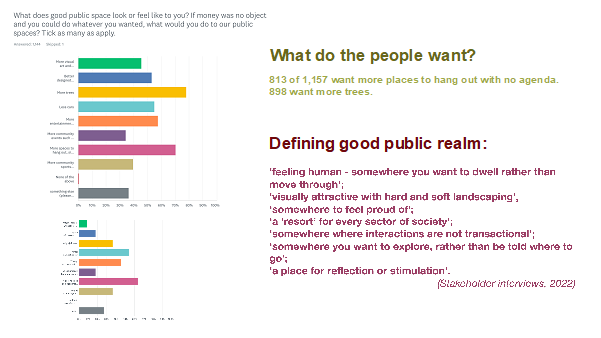 The research illustrated a need for support at both government and grass roots levels – a Public Realm Partnership that offers value to the key stakeholders of government, business and community.
Although over 80% of survey responders felt government had a financial obligation for our public realm, multiple stakeholders are affected by decisions to the public realm and it was clear these improvements cannot be delivered by 1 sector alone. The initiative received support from the Future Places Ministerial Group and funding for this year's pilot from the Economy Department, connectMe and Arts grants. This commitment has led to crucial partnerships with business and third sector. The pilot has four stages (shown in this diagram and below)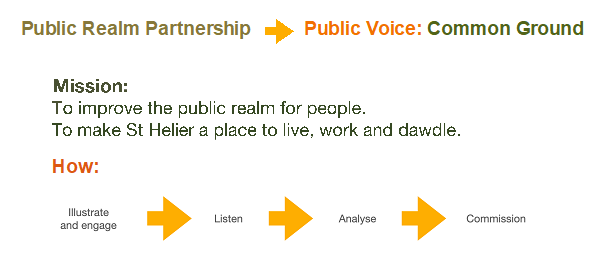 Stage 1: Illustrate what's possible
The pilot and its partners created temporary interventions in sites around St Helier. Temporary interventions are less contentious, don't involve planning permissions and are particularly useful where a society needs inspiration.
The Pop-up Park at the Pétanque, Weighbridge Pl evolved out of a need for a multi-use space that slowed people down and gave them a reason to stay. Following designs by Antony Gibb Ltd, JDC laid turf, with planters by Acorn and GROW to define the space. The use of the space trebled and people stayed as a result.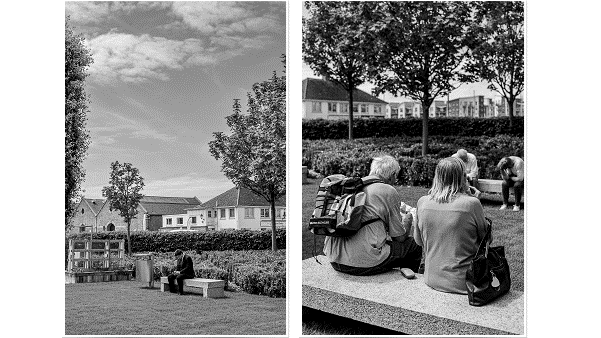 The Pop-up Perch, Romerils carpark reclaims four company car parking spaces and turns these into flexible seating for around 30. The site is designed for wheelchair users and utilises existing Romerils planters, pallet boards, structural planting by Ransoms Garden Centre and planters by Acorn. On Wednesday 27 September (7:45 to 9:15pm), Film at the Perch will showcase the work of local film makers at a free open air film screening curated by 13th Parish.
Stage 2: Listen
To enablelasting and relevant change, society needs a voice. How to enable this in an environment of peak survey boredom was of particular interest at the symposium.
The Public Voice survey is in Polish, Portuguese and English and everyone is encouraged to speak up. However, a large part of the listening has taken place through interviews and discussions – with schools, youth centres, skate parks, mental health charities, communities, individuals on the street and online. Blackboards at the pop-up sites have asked the public about their public space and will be added into the feedback.
Hearing from all demographics is key. Well over 20% of engagement is under 24 years of age. GenZ marketing company, Vida are a valuable partner and responsible for bringing the message to TikTok – their 'Barbi on King St' reel received nearly 3,000 views!
Arts and culture is no longer seen as an add on, however, it can often be unclear as to what the benefits are. Earthworks was a clay workshop led by London artist Jo Pearl, at the Pop-up park with JDC. We worked with local potters, as well as the community to create a joint clay-scape of a St Helier we all wanted to live in. A bit like knitting and walking, handling clay helped formulate ideas that was slow and enjoyable. It brought strangers together regardless of language skills or ability.The 2 workshops resulted in a ladar recording of the clay model, interviews, drawings, film, photographs – insight that would simply not be possible through online survey alone.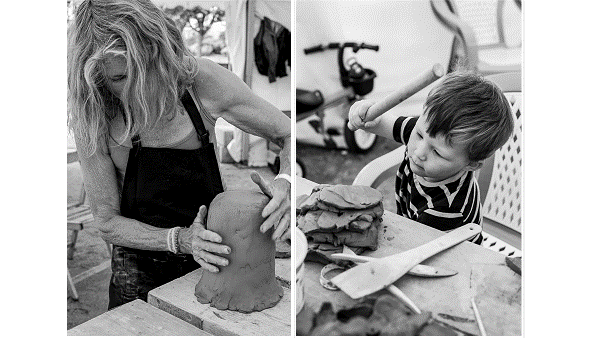 Stage 3: Analysis
Community data has not been collected in this way in Jersey before. Public Voice is working with JCRT this autumn to code and theme the many voices that have taken part in the pilot. This analysis is extremely important to the 3 sectors to:
influence government policy and enable decision making
guide community and 3rd sector to invest where needed. For example, the analysis will directly support the important work JCRT have already carried out regarding woman and young girls in St Helier
help business understand the needs and wants of public and customers and to develop accordingly.
Stage 4: Public realm commission
As an art consultant, your aim is to enable the artist to do their best work and to come up with a solution you could not possibly have thought of yourself. In business start-up literature, problem solving is based on problems, rather than solutions to problems that might not exist. It is important that the commission outcome is not proposed by the stakeholders. To get the best result here, we're commissioning a creative solution to societies problems, not commissioning a piece of art. The outcome might involve landscape architects, community groups, urban planners, artists, depending on what's needed. Creatives are taught to ask questions they don't know the answer to. This enables solutions you will not have thought of.
Diverse boards produce better business outcomes – creative thinkers need to be involved in problem solving.
Lé Galvaûdeux, (Jerriais for 'the wanderer') is a walk by Jersey artist Tim le Breuilly.
The walk takes you through parts of St Helier you may not have visited and inspires all to look at St Helier through new eyes. All walkers are encouraged to post what they find to instagram, mentioning @publicvoicecommonground and @ludditepressci with the hashtag #legalvaudeux .
There will be a pop-up exhibition of some of the highlights at JDC's Horizon building (opposite Cineworld), where Tim and Luddite Press will be holding a free drop-in print workshop, 10.00 – 14.00, Sat 14 Oct.
The three takeaways
Collaboration We talk about collaboration as if it were easy. Different agendas, bias, speeds of working, concentration levels, motivations even when with a common goal, is not easy. This takes commitment and practice.
Resistance to change – People are generally not afraid of change, they're afraid of loss. An understanding of change management is important – Art and culture are useful in enabling change.
Trust takes time, effort and communication. Be clear what you're doing and why. Listen hard. Dialling down the shouters to same volume as everyone else is easier when everyone is given an equal platform to speak.
The talk ended with a picture of Toni. Toni lives near Weighbridge Pl and is the honorary, self-appointed site guardian of the pop-up park. He brings toys for the children, waters the grass and plants, cleaned the blackboards and decorated them with glitter balls and a Mexican hat. Toni is an example of why what we are doing is important. He shows us that when you give people the public spaces they ask for, they behave differently.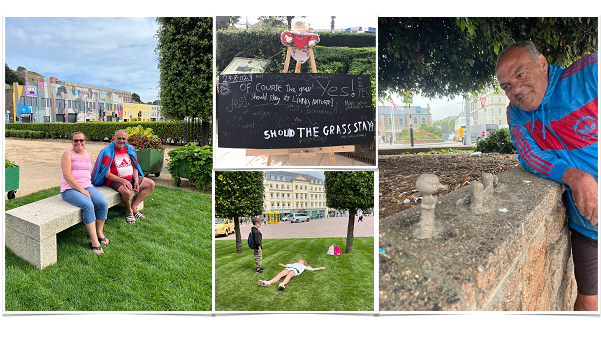 About Public Voice: Common Ground
The Public Voice: Common Ground pilot is supported by funding from the GoJ Economy department, as well as the ConnectMe and Arts Grants. You can find more information on the website About — Public Voice: Common Ground (publicvoicecommonground.co.uk)