Channel Islands Pride 2023 is set to provide a showcase for local artists during the Pride celebrations in People's Park and Victoria Park on Saturday, September 16th. The Creative Island Partnership is thrilled to support this year's Channel Islands Pride event. This celebration represents a wonderful showcase of our local artists and creates a fantastic atmosphere for everyone to join and appreciate the exceptional talents our creative islanders have to offer.
While Pride has always embraced local talent, with Jersey singers and cabaret artists performing on the Main Stage since the first event in 2015, this year the organizers have sought to bring together a range of disciplines, including performing arts, photography, painting, spoken word, and song.
The festival Stages have been planned and are managed in partnership with the Jersey Arts Centre, who provide a crucial link to the local arts scene.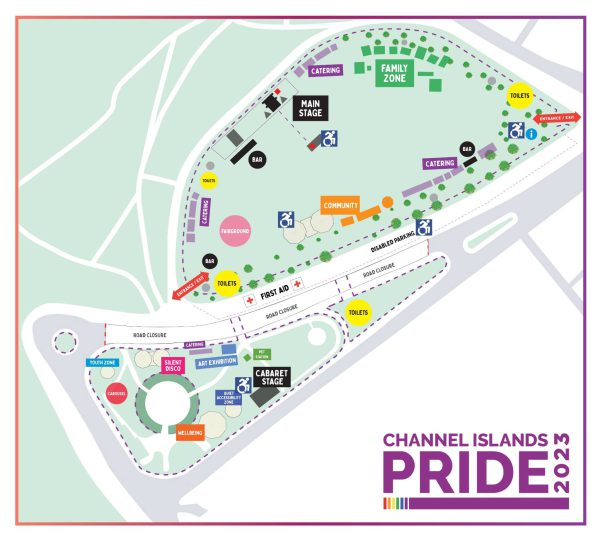 The Main Stage, located in People's Park, will feature local performers such as Dr. Adam Perchard, known for taking his cabaret and satirical revues on nationwide tours; acoustic artist Megan Langlois; composer and singer Rich Allo; and the talented Sister Disco.
The Cabaret Stage, situated in Victoria Park, will host Jersey's first drag haus, Flair Entertainment, who will present a medley of lip-syncing and live acts, alongside a spoken-word performance by Kaye Nicholson, exploring the world of sapphic literature.
The new Art and Exhibition Zone in Victoria Park tells the story of Jersey's place in LGBTQ+ history and how arts spaces have supported local queer individuals for over 50 years. This includes a series of portraits commissioned from local photographer Nicky Kill as part of the #CelebrateYourself campaign designed by Jersey-born Katie Killip. The campaign focuses on non-traditional Pride images, celebrating people of colour, trans individuals, allies, disabled, and bisexual people, as opposed to white, able-bodied, gay men.
In partnership with RampArts, the Art and Exhibition Zone will also display a dozen works from local artists in various mediums, reflecting on the challenges faced by the LGBTQ+ community.
Saturday afternoon will also feature a talk by Deputy Montfort Tadier on two of Jersey's most famous 20th Century LGBTQ+ artists: Lucy Schwob and Suzanne Malherbe, known as Claude Cahun and Marcel Moore.
The Youth Zone, hosted by Children, Young People, Education & Skills alongside the I Can I Am I Will project, will include an immersive projection space and a graffiti wall, allowing participants to leave their mark on Pride 2023.
The artistic world has long been a welcoming safe haven for LGBTQ+ people, providing not only a strong sense of community but also a vehicle for personal expression when it might not otherwise be possible. Pride is for everyone, whether LGBTQ+, a family member, or an ally, and the entire community is welcome to celebrate on Saturday, September 16th.
For the full lineup, visit Channel Islands Pride website.