This week, Jersey has been joining the UK in highlighting UK Anti-Doping's Clean Sport message.
Jersey's Anti-Doping Education Team, including Government of Jersey's Sport Sector Officer Nikki Holmes, have been delivering clean sport training to the Jersey Island Games Team who are heading off to Guernsey in July.
But what is clean sport and why does it matter?
Why clean sport matters
When we watch sport, we want to know that the athletes are competing without using any performance enhancing drugs – we want to know that what we are seeing is real and that no-one is cheating. You might remember watching the 100m Olympic Final in Seoul 1988 when Canadian sprinter Ben Johnson crossed the line in 9.79 seconds, breaking his own world record. Three days later, he was disqualified, his medal stripped and he was sent home in disgrace in front of the world's media. He later admitted to having taken steroids since 1981.
You might not remember skier Alain Baxter who made history by becoming the first British skier to win a medal in alpine skiing at the Salt Lake City 2002 Winter Olympics.  But Alain was also stripped of his medal having tested positive for a banned substance.  The difference between Alain and Ben was that Alain had taken a medicine for a cold and he didn't know that it had different ingredients to the same medicine in the UK – a Vicks inhaler.  He hadn't meant to cheat; he had made a genuine mistake.  He successfully appealed his ban, but his medal was never returned.
About Clean Sport Week
What Clean Sport Week gives us a chance to do is to educate athletes and give them the tools to check their medicines themselves and understand what might happen if they are selected for a test. UKAD have an app called 100% Me which helps athletes to understand their rights and responsibilities. The main message is that an athlete is 100% responsible for everything that is found in their body – this is called Strict Liability.
The team around an athlete – coaches, parents, doctors, physiotherapists, etc – also have a vital role in creating a positive culture that gives athletes the confidence to play and win fairly. This year's Clean Sport Week focus is on 'Teamwork in Clean Sport' so anti-doping education has been provided to the Island Games Team coaches and managers as well.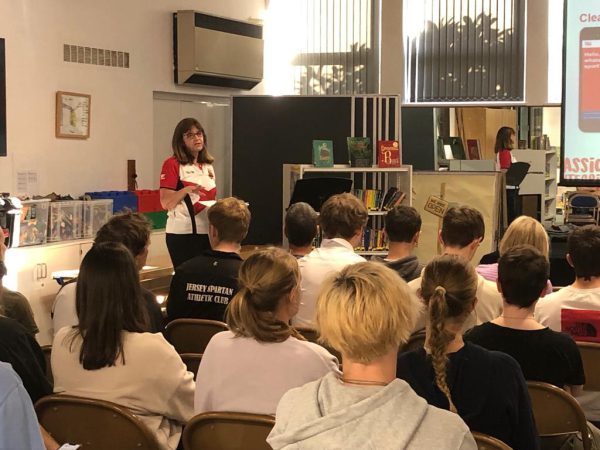 Jersey has recently adopted its own Anti-Doping Policy and set up a National Compliance Platform (NCP) to ensure we are compliant with the UNESCO International Convention Against Doping in Sport. The NCP includes representatives from Government, Jersey Sport, the Jersey Commonwealth Games Association, Island Games Association of Jersey, Highlands College, Strive Academy and Jersey Reds as well as athletes and coaches.
Clean sport best practice
Athletes can make sure their medicines are safe by checking them on a website called Global DRO – www.globaldro.com They choose their sport and the country where they bought their medicine from (remember the story of Alain Baxter earlier?) before searching for the brand name, such as 'Sudafed Sinus Pressure and Pain Tablets'. If your sport is athletics, this particular type of Sudafed medication is banned whilst you're in a competition but is OK to take when you're not competing. If you take 'Sudafed Congestion and Headache Relief Max Strength Capsules' then these are OK to take at any time. You can hopefully see now how mistakes can happen and why it is important for athletes to know how to check medication.
So what can our athletes expect if they are selected for a test? UKAD Educator Nikki Holmes explains: "The first step is when you're notified that you've been selected for a test. You then report to the Doping Control Centre where you are required to produce a sample, normally of urine. A qualified Doping Control Officer (DCO) needs to see the urine coming out of your body which can make some athletes quite worried, but the DCO is there to put you at your ease and is quite used to calming down anxious athletes. If you are Under 18 then there are extra measures put in place to protect you. Once you've produced your sample, it is split into A and B samples and sent off to the lab for testing. A new test has been devised called a Dried Blood Spot test which is a simple finger prick test and is quicker, less invasive and cheaper. I'm sure lots of athletes will welcome this new test although it isn't available everywhere."
The biggest risk for athletes is supplements as these aren't subject to the same rigorous testing and control as medicines.  Athletes are always advised to check whether they need to take supplements as, for many, eating a well-balanced diet in the right quantities at the right time can support their performance requirements.  There is no guarantee that any supplement is free from banned substances, but athletes can reduce their risk by checking their supplements on the Informed Sport website www.informedsport.com  
If any athlete is unsure, they can find information and free training courses on the UKAD website www.ukad.org.uk or they can download the Clean Sport 100% Me app. They can also contact Nikki Holmes at n.holmes@gov.je who is a UKAD Educator and the Government's Anti-Doping Lead.