Today I start blogging. It is something the Jersey Met team have wanted to do through various channels, but the knowledge that once we start something like this, we will have to continue contributing for a very long time, has caused us to shy away in case a better idea comes along. But the time has now come and I'm grateful to someone that left feedback on our site this morning, giving me the reason to start.
This morning we had a frustrated user of gov.je/weather who left a comment at 08:04, saying they were disappointed that the forecast was more than five hours old. The forecast was updated 11 minutes later.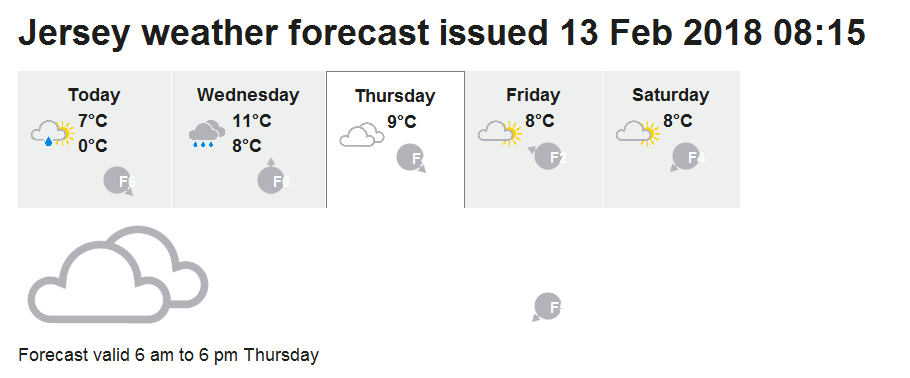 I do sympathise with him. Perhaps our user was left wondering whether Jersey Met's forecast is the most up to date and informative service – especially if important decisions are being made off the back of this information.
One option might have been to give us a call on our premium rate line, but I think it is worth explaining how we work and when the forecast is updated. Also this gives me an opportunity to ask if we should update more frequently, even if there is no change in the forecast, so that there is greater confidence in our service.
At Jersey Met we operate 24/7.  This is because our primary services, warnings to the public, aviation and shipping services all require us to keep a continual weather watch. Bad weather could occur at any time during the 24-hour period, but computer models, though very good, will miss key information that may be a trigger for a warning that could save lives.
At Jersey Met, we have developed a forecast service that can be updated on demand at any time, meaning that the people who use our service will always have access to the latest thinking of the local weather forecaster.
This forecaster, based in Jersey, will be looking at many forecast models, have extensive local knowledge, and will use his or her skills to distil the information into a more informed, and less complex, forecast which suits the needs of the many. These are the forecasts that appear on our web site and are also used by BBC Radio Jersey, Channel 103 and ITV Channel in their short weather bulletins.
Normally we update our forecast four times a day. However as the weather changes the forecaster will update the forecast to match what is happening outside.  For example the forecast today may be 'rain clearing to fair with sunny periods. Isolated showers later.'  So when the rain stops and the sun comes out, the change will swiftly occur to 'fair with sunny periods. Isolated showers later.' There is a little delay due to the time it takes for a forecast to be displayed.
So should Jersey Met update the forecast more regularly, even if there is no change in the words, to give more confidence in our service? We're always looking for ways to improve our service and I'd welcome your views.
Comment your views below or send us a tweet @Jersey_Met