If you've got children at school, you'll already be preparing for tomorrow when industrial action is being taken by many teachers, lecturers and heads.
Parents who have been following the steadily-escalating dispute this year will – like me –have been hoping that we didn't get to a situation where striking teachers force schools to close.
That we are at this point is something that I profoundly regret. I'm sorry for parents, for pupils, for schools and for the caretakers, teaching assistants and other education staff who agreed the same 7.9% pay rise that other public servants did but have still been caught up in this.
The school closures, which are outlined here Proposed Strike Action – School List (gov.je) have come after the National Education Union (NEU) voted for strike action and the National Association of Schoolmasters Union of Women Teachers (NASUWT) and the National Association of Head Teachers (NAHT), voted for action short of a strike.
While the States Employment Board (SEB) and our negotiating team have found some information out in the media before being told by the unions, we have maintained that all sides continue to communicate directly with each other as we work towards a solution.
For clarity, here is the offer that was made to teachers at the start of the year:
Public service employees in Jersey were offered a 7.9% pay uplift from January 1st 2023. This was accepted by the majority of pay groups, including school support employees such as teaching assistants, lunchtime supervisors and caretakers.
Teachers were offered an alternative deal where £4,250 is added to the 2022 pay scales, as an average equivalent of 7.9% providing the same monetary amount to all levels. This equates to a 12.1% rise for the lowest paid staff (see below).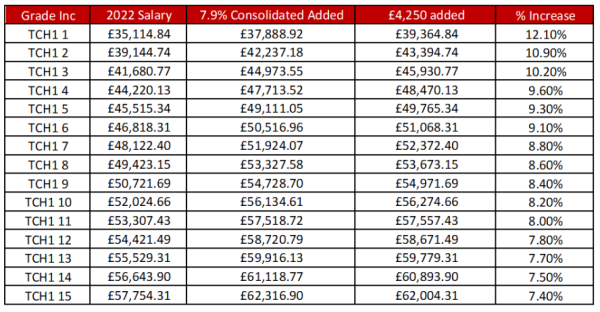 In response the unions are asking for 15.4% – a figure that the media seem reluctant to quote – and have, so far, shown no sign of any movement on this position.
Paying the teachers anything like that figure will have far-reaching consequences for everyone on the Island.
The 7.9% was agreed by the States Assembly and was based on what we could afford, while also considering the increase in inflation and the rise in the cost of living that everyone is facing.
Any addition beyond 7.9% would have to be found from other public services and that includes schools, but The Government Plan 2023-2026 shows the balance of Jersey's public finances with little or no surplus, making large public sector wage increases unsustainable.
The SEB has been at pains to point out how valuable teachers are to the continuing success of Jersey and the crucial role they play in educating our young people.
As a result, teachers are rewarded fairly and compared to other professions on the Island are in the higher paid bands. The average pay of Jersey teachers in 2022 is £54,280 and this will rise to a minimum average of £61,805 proposed by the pay award.
Teachers also continue to be a group of employees who have a final salary pension scheme when most of the public services in Jersey moved to a career average scheme in 2019 (the UK final salary scheme closed in 2022).
The wage bill for teachers and lecturers rose between 2021 and 2022 by 7.2% (from £51.3m to £55m) and we've also spent additional money to support the profession including:
an extra £1.3m for teacher training (including for master's and multilingual qualifications)
an additional £1.9m for parental leave benefits in 2022
recruiting an additional 29 Special Needs Coordinators and 47 teaching assistants in the last three months
increasing our resilience so that we can now provide almost all supply cover from our Island pool of teachers.
One of the main claims of the unions is that there is a recruitment and retention crisis in the teaching profession in Jersey. But the figures don't back this up, as seen in the tables below which measure average headcount and full-time equivalent (FTE) counts.

So far, the pay demands of the unions remain unrealistic, unaffordable, and unsustainable.
While we have offered alternatives, there has been no change from the 'opening' position of the trade unions in their negotiations. There have been no alternatives presented by the unions other than more money. If there are affordable alternatives, we are listening.
Although we respect the right to strike, tomorrow's action will only serve to be disruptive to pupils and the parents who must take time off work to look after them. Many parents – including other teachers not on strike – will have to take a day's annual leave or unpaid leave. Some may also incur additional childcare costs.
The SEB has continued to engage with unions throughout this process, including going to conciliation through the Jersey Conciliation and Arbitration Service (JCAS).
Last week, I wrote to the NEU and NASUWT offering arbitration – a process by which an independent expert helps us find common ground and hopefully a solution. The NASUWT are considering their response and must go through their own channels of agreement within the union. The NEU has already said that the offer of arbitration is 'premature'.
However, balloting for strike action before conciliation has concluded, calling a strike day before the actions agreed in conciliation and then refusing to move to arbitration and call off the planned strike could certainly be described as premature.
We remain ready to enter arbitration to resolve this, but in the meantime our good faith discussions, which form the basis of professional negotiation, are hampered by threatened strike action.
I encourage people to understand the facts of where we are and how we got here. Everything other than the out-of-touch 15.4% pay request has been given to the trade unions. They have not moved their position and so we are stuck, for now.
Ultimately, public employees pay comes from your taxes. We must be mindful that many people are also impacted by the cost of living pressures and inflation, but additional taxes are not the answer to this problem, nor is greater public spending.
Instead, we will keep talking and keep trying to find different ways to resolve this in order to ensure there is no repeat of the strike action we are due to see tomorrow.