On Wednesday 15 March the Chief Minster, Deputy Kristina Moore, appeared on the BBC Breakfast show with presenter Jenny Mullin to discuss drainage issues impacting the development of new affordable housing, particularly in St Peter. The first part of the interview featured Islander, Kevin Pallot, who is hoping to purchase one of the homes at the St Peter development.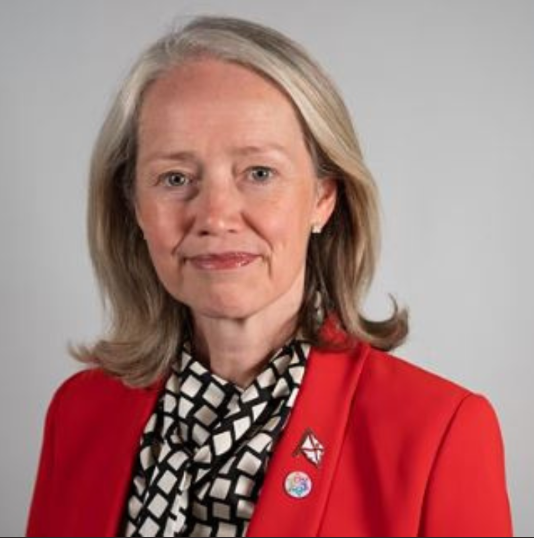 Chief Minister: I remain of the same view that I was when I spoke to Kevin before the election: it is really important we deliver housing. It is one of our areas of relentless focus and we as a government have been as disappointed to learn of this issue of a lack of investment in the drainage system. That is something we are determined to work around so it doesn't delay the delivery of housing because we know how vital it is for Islanders.
BBC: Why weren't the drains and sewerage thought about earlier in the development?
CM: So, a previous government actually took a decision to invest in the treatment plant at Bellozanne. That work is going to be complete at the end of this year, so it came as something of a surprise to us as the political leaders when we learned that there were issues with the network, but as I say the Minister for Infrastructure is very much focused on delivery. I spoke to him yesterday and he assured me he is looking for solutions so that we don't delay the delivery of housing due to this issue.
BBC: How will this affect other developments in the Island?
CM: It means we need to look at alternative solutions, but we are committed to doing that so we can equally deliver the housing that we understand Islanders desperately want to see in the Island.
BBC: How can we expect families, like Kevin's, to stay in Jersey if they can't afford a home here?
CM: We very much understand that, which is why one of our three areas of relentless focus is housing. And we are focused on moving forward with the delivery of housing. I regularly ask for updates and we are obviously in the planning stage at the moment with plans for the St Saviour's Hospital site are under way, as well as the plans for St Peter and other areas, where we will see new housing and affordable housing delivered.
BBC: The Minister for the Environment said there has to be investment in the drainage system after years of neglect. What money can you make available?
CM: We are working on that. Now we know of the problem we recognise that some investment is needed, and we are working on how we can do that. Work at the treatment plant comes to an end at the end of this year which will be a step forward, but we will then set to ensuring the drainage network is also dealt with.
BBC: Where will this money come from and how much are we looking at?
CM: Well, it is a considerable amount of money that will be needed, some millions, about £40 million that will be required, and we are currently in discussions about how we will achieve that.
BBC: Will the public feel that? Where's that money coming from?
CM: We are working on that plan and will be announce it as soon as we can.
BBC: Are you happy to meet Kevin again?
CM: I would be really happy to meet Kevin again and, of course, I remain absolutely committed to delivering housing, [as are] members of my government… and the officials we are working with. We are investing in our Strategic Housing Unit so they can support us in delivering policies that will help us deliver the housing Islanders want to see.
BBC: What do you mean by ways to work around the issue (question sent in)? Does it mean new homes won't be connected to the system?
CM: No, I think this means we will have to look at options like creating tanking systems and timer systems that manage the flow of liquid waste into the existing drainage system. I hope that's not too technical a description."
BBC: You certainly know a bit more than me about it. Good to know, I will do a bit of Googling to get up to speed.
For more from BBC Jersey: Jersey – BBC News