Interim Associate Director of CYPES, Elaine Walker, explains how Jersey will join the global green festival this weekend to celebrate St Patrick's Day.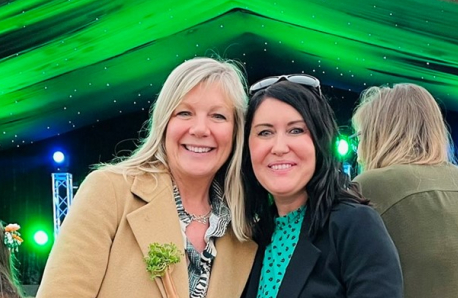 Growing up in my hometown of Dublin, St Patrick's Day was very much celebrated, like it is around the world, featuring parades, pubs and plenty of partying.
St Patrick's Day falls on a Friday this year and St Helier will join the global green celebrations by holding a three-day festival. As an Irish person who has made my home here, in the Island, for almost 20 years, I'm so thankful that my children can experience a taste of Ireland in Jersey.
On Friday 17 March, the annual St Patrick's Day Mass takes place in St Mary and St Peter's Church, at 11am, with the blessing of the shamrock, followed by a reception in the Town Hall for the Irish Community between 12 to 3pm.
Organised by the Jersey Irish Society, which supports, promotes and organises activities and events on all aspects of Irish culture, the celebrations will include a black-tie ball, Irish food and music, and the revealing of who will be crowned this year's Irish Person of the Year.
The Parish of St Helier events team deserve a big pat on the back for organising another weekend festival for St Patrick's Day. This year's parade through the streets of St Helier will be twice as long as in previous years and anyone can join or just stand back and watch the sea of green passing by like one of the giant snakes St Patrick is said to have chased out of Ireland.
The parade leaves West's Centre at 11am, Saturday 18 March, passing through King Street, the Royal Square, the Weighbridge and then onto the large marquee in Parade Gardens for a day of Irish music and dance from the Cannon O'Rafferty Irish School of Dance, including my two daughters!
If you want to get into true Irish spirit of this global festival early, then take a look at last year's opening to the event, Jersey celebrate St Patrick's Day with four day festival | ITV News Channel, which was attended by our then newly-appointed CEO, Suzanne Wylie.
I'm also delighted to be part of the new International Culture Centre Steering Group, which has been working hard behind the scenes, as part of the Chief Minister's plans to put a plan in place to open a Cultural Centre in Jersey, to celebrate all our cultural identities and bring Islanders together. You will hear more about these plans in the coming weeks!
Have a great weekend everyone and Lá fhéile Pádraig sona dhuit! (Happy St Patrick's day to you)