The States of Jersey is focused on improving its organisational efficiency and reducing its cost of operations. In doing so, the States recognised the need for a design capability; what is now called the Design Authority (DA for short). In this blog entry I will explain what the DA is and the work it has done so far. For IT suppliers there is an invitation to meet with us to find out more.
The primary purposes of the DA are:
To ensure IT enabled projects are delivered according to a common architectural direction, and;
To identify and govern the development of common capabilities.
The company I work for, ASE Consulting, was appointed in March 2016 to establish the DA as part of the eGov Programme. This was after a rigorous selection process in which SoJ examined ASE's experience in building and operating similar functions for other organisations in both the public and private sector. I lead the DA as its interim Chief Architect.
Ahead of going into some of the detail of the DA, it is worth taking a step back to explore what establishing a DA means. Several recommendations from the Comptroller and Auditor General's audit report on the eGov programme pointed to the need for the DA. The challenge is to go from nothing to an embedded, fully operational capability.
Establishing the DA
In establishing a DA we set about:
Staffing the DA in the medium term, given our role has a set duration. We need to understand what an enduring DA will look like for SoJ. This includes what roles are required in the future, and how it will function in the longer term.
Understanding how the DA could operate within the existing States' governance arrangements. This will change over time. We also need to knit the DA into the fabric of other functions within SoJ as they emerge.
Determining how well the current architecture of SoJ is understood and documented, and what is missing. This allows us to prioritise what we focus on developing first.
Developing our ways of working. This covers how project teams engage with us, what they can expect from us, and how we can help guide projects.
Although the DA began within the eGov programme, the intention is that the DA will grow to encompass the breadth of SoJ, as shown in the diagram below (Figure 1). We are excited, and feel privileged, to be a part of building this permanent design capability.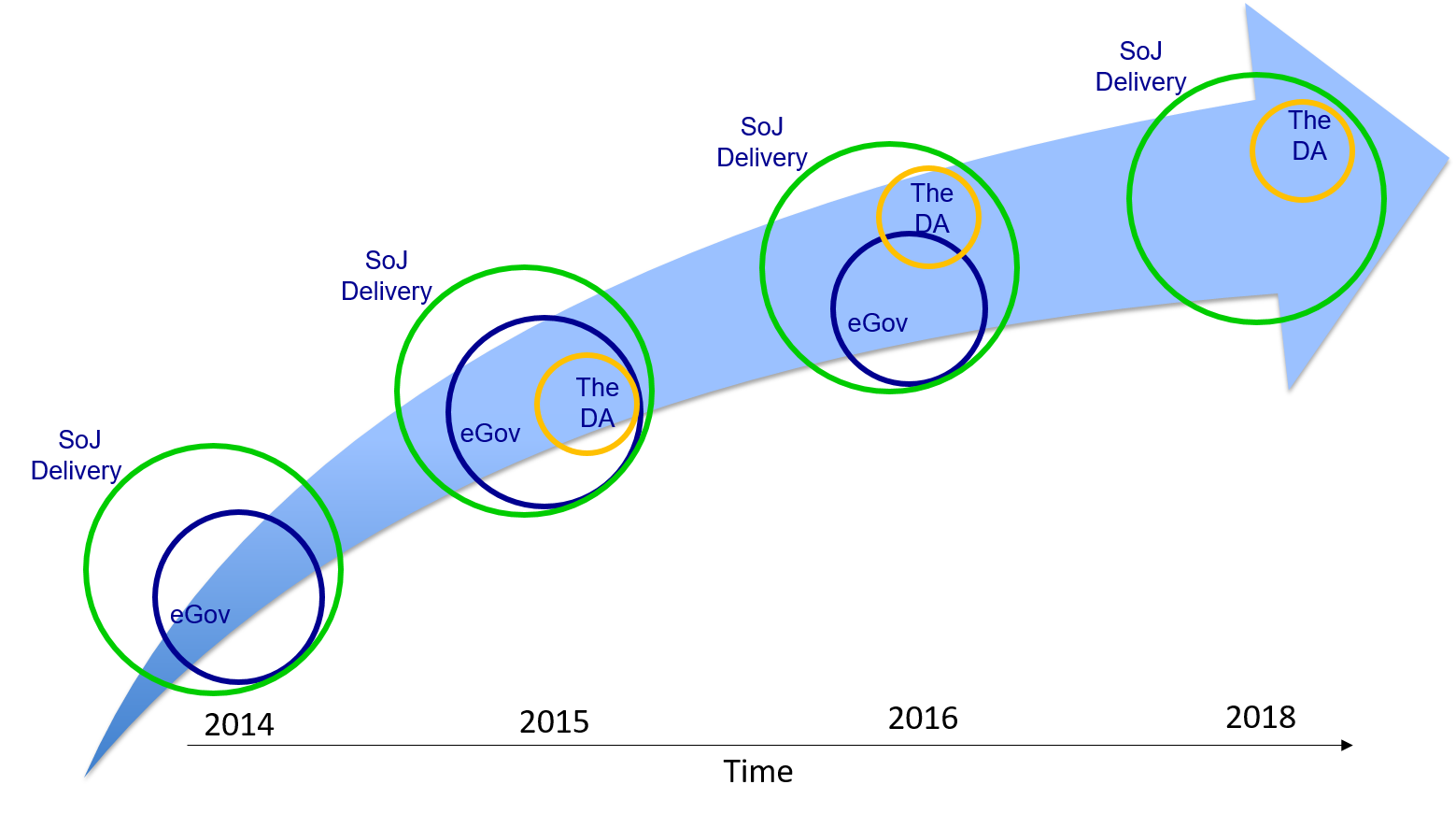 Figure 1. DA journey
The Start
When we began our work within the States, we embarked on a period of discovery. In this period we engaged with SoJ personnel and local suppliers to better understand the organisation and its ecosystem.
We found the following significant strengths:
A highly collaborative working environment with committed individuals;
A good understanding of SoJ's application and technology landscape;
Executive commitment to move to digital, putting the customer at the centre of services; and
A pan-island technology community with Digital Jersey as its champion.
SoJ is not alone in facing challenges in the future, and the key ones we discovered affecting our work were:
The nature of the organisation encourages departments to focus on their own initiatives. This leads to the development of solutions specific to each department;
The lack of tools and capabilities to understand how each change affects the organisation as a whole; and
The lack of architectural principles and guidelines to direct decisions.
These challenges have often resulted in a duplication of systems and technology. It also led to initiatives which cannot easily interoperate with each other. With no common architectural view, there is a limited view of projects across different departments. This affects how we can reuse solutions, and restricts the ability to achieve a lower cost of ownership across SoJ as a whole.
The Advancement
During our time with SoJ, we have worked closely with various project teams. This has allowed us to understand the situation at hand better. While our role in these projects varies, we principally focus on providing guidance and support in technical design. This is from reviewing documents, to helping shape requirements and target architectures.
Our experience has shown us that an 'ivory tower' approach to design governance simply does not work. Our preference is to work with projects to develop architectural products. We can then shape them into more generalised offerings which can be used elsewhere, but always revisiting with each project. Effectively, we prototype, standardise and refine. This is both pragmatic and proportionate. It will help departments feel we are working with them, rather than imposing our work upon them.
We have helped inform the direction of the People Directory, Digital ID, the tax replacement system, and the mobile police solution, amongst others. Our role allows us to contribute on the specifics of these projects, at the same time ensuring they remain in line with the standards and guidelines of the DA as we develop them.
Our role has been balanced between understanding the as-is landscape of SoJ, working towards a target state, lending support to projects, and establishing a governance framework. In future, the key is maintaining the correct balance between creating technical artefacts, operating design governance, and shaping how projects evolve. This is shown in the image below (Figure 2).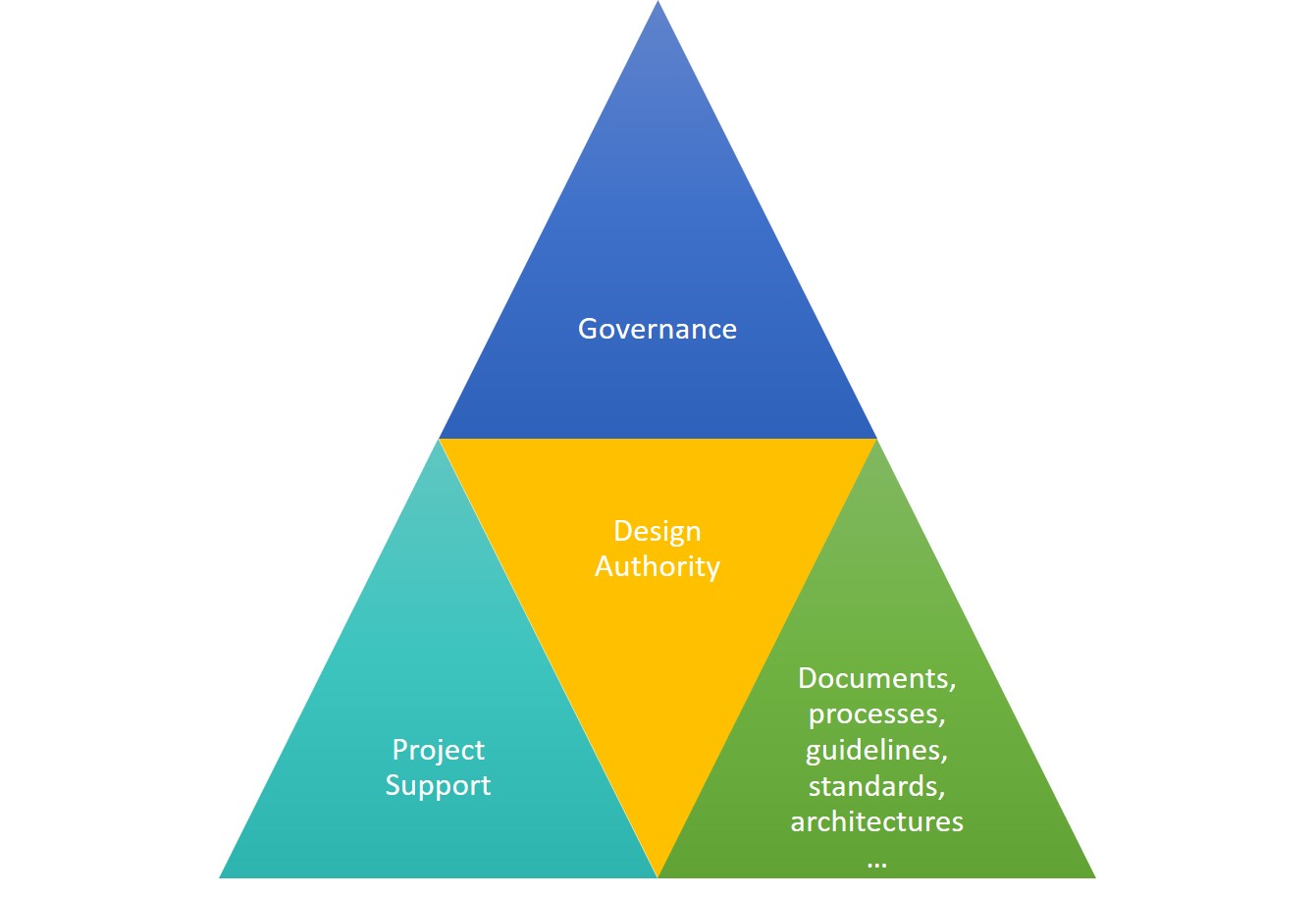 Figure 2. Design Authority functions
We have started developing the technical architecture document set. These artefacts are the tools which inform programmes and projects how to approach design in a standard way. It will identify how their change impacts the organisation as a whole.
At the same time, we have started developing business architectures within several departments. In doing this, we can identify how each collaborates with other departments and what technology they use. This is important as technology, without a link with the business, will never be successful or deliver maximum value. We believe in business-driven, technology-enabled, transformation. The business architectures focus on each department's operations from the customer's perspective. This gives us a better understanding of the potential common capabilities that can be shared across departments.
The business and technical artefacts help direct initiatives in the same direction.
The Sharing
We believe that now is the time to share several of our technical artefacts with our supplier community. We hope this information will provide insights into the SoJ architecture as it is developing, and help our partners better position themselves around standard requirements and guidelines. Ultimately it will help to increase the capabilities in Jersey.
We will be holding an industry day on 13 December; please register here. Documents will be circulated to those registered to this event and will be published online in the future.