A Diwali prayer 
Nearly every celebration in India begins with a prayer or mantra. My favourite for Diwali is one in Sanskrit which when translated into English goes:
"Dear God, lead me from Unreality to Reality; from the Darkness of Ignorance to the Light of Spiritual Knowledge;
From Mortality and Material Attachment to Immortality and Self-Realization,
Peace to all the world."
The symbolism of Diwali
Diwali, or Deepavali, is celebrated over five days. The festival gets its name from the Sanskrit words row (avali) of clay lamps (deepa) that Indians light outside their homes. This is to welcome the various Gods into our homes and is also a symbol of spiritual light triumphing over the darkness of ignorance.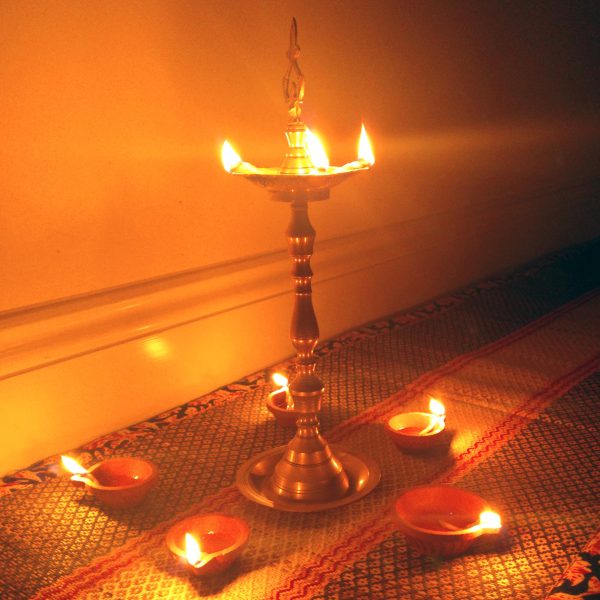 According to Hindu myth, Diwali celebrates the return of God Rama, his wife Sita, and his brother Lakshmana from the forest after 14 years of exile. Rama's stepmother had them banished so her son could become king. During their time in the forest, Sita was kidnapped by the evil demon king Ravana. Rama and Lakshmana, with the help of the monkey God Hanuman defeated Ravana, rescued Sita and returned to their kingdom. Rama was crowned king and goodness, order and harmony was restored.
My childhood Diwalis
The excitement of Diwali began already in October with lots of other festivals and celebrations.
We Indians need no excuse to get together, cook lots of food, wear our saris and celebrate. As if to aid us, we have dozens of Gods, and they have their birthdays and weddings so everyone's a winner! 
On the morning of Diwali, we would wake up at 4am, have an oil massage with sesame oil which would be heated with crushed ginger and peppercorns. This was to keep us warm in autumn and winter (ha, winter in South India?! 25-28°C degrees! But that is cold for a South Indian, trust me).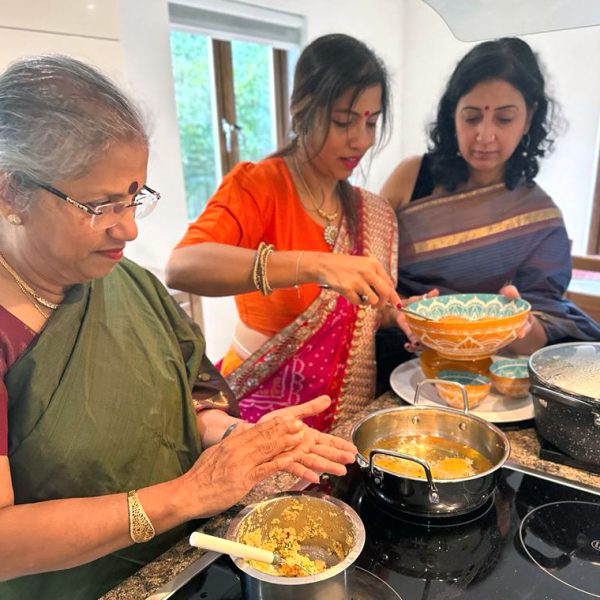 We'd wear our new clothes, take the blessings of the family elders, visit temples, have a feast with family and friends and set off firecrackers all day long. We'd visit various relatives and friends, eat lots of sweets, have another feast at dinner time and set off more firecrackers in the evenings. Fortunately, the use of firecrackers is slowly declining now due to safety concerns and pollution.
My heart wells with such powerful emotion and nostalgia when I think of Diwali in India.
Diwali in Germany and Jersey
My family and I lived in Germany before moving to Jersey.
Diwali was a subdued affair as there wasn't a big Indian community in the German city where we lived. I cooked a feast for our family of three, we had friends over and it was a small but cosy celebration.
We moved to Jersey a year ago as my husband (a Jerseyman) wanted our 5 year old son to grow up with family around. And to my great delight, I have overnight become a part of a large Indian community!
It's not just Diwali but nearly every Indian festival that's celebrated much like we would in India: prayer gatherings, delicious food, a veritable fashion show with saris and a happy community spirit enveloping us.
This past weekend, we were invited and in turn, we invited our friends to our home to celebrate. I wore a silk sari, lit the clay lamps, cooked a traditional South Indian meal and desserts.
My husband and I told our son the story of the significance of Diwali; then our friends came over for lunch and we spent a fabulous day together. Some of our friends set off firecrackers but just pretty and safe ones.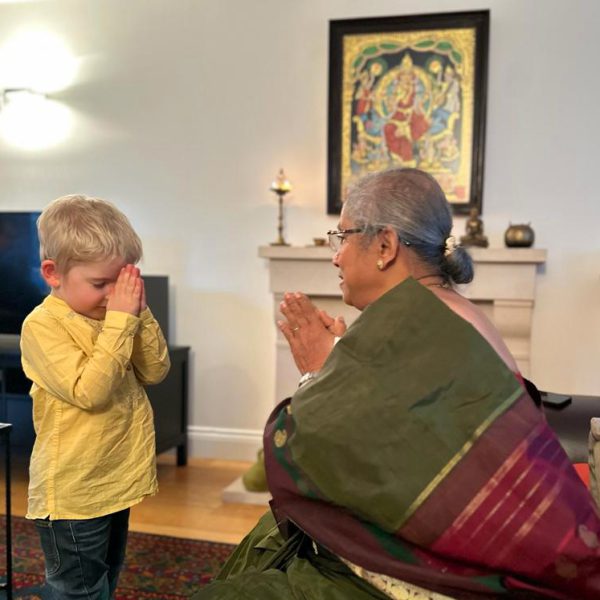 This weekend we're delighted that the Jersey International Cultural Centre has arranged a Jersey Diwali Festival, taking place on Saturday 18th November at both the Jersey Library and Central Market. Do join us for the fun and festivities.
My Diwali wish for you
There's another one-line Sanskrit prayer that I absolutely believe in.
The English version goes:
"May all the world be well and happy."
Add to that 'healthy'.
That's my Diwali wish for all of you, and I say that with my hands folded in a 'Namaste'.