September is upon us, which means the Jersey Festival of Words is just around the corner. The Creative Island Partnership is thrilled to support this year's Festival. Recognising the significant impact this event has on the growth of the island's creative community and its inspiration for the younger generation, this event plays a crucial role in advancing Jersey's creative sector. Through accessible and exciting events, the Festival of Words promotes a love for storytelling while also celebrating local writers.
Now in its seventh year (having been forced to sit out a couple due to Covid), organisers and festival-goers find themselves looking forward to the next chapter in the Festival's history, while looking back at the journey this celebration of the written and spoken word has taken.
Central to this journey are the various venues in which the Festival is staged. This year sees events returning to the Jersey Arts Centre and Town Library, which boasts a newly extended run of events beginning on Friday 15th September. The Jersey Lido will also once again play host – to a swimming-themed event with author Freya Bromley – while various secondary schools will open their doors to authors including Amara Sage and Nathanael Lessore as part of the Festival's offering to local students.
And there's a new venue on the block. Between Wednesday 20th and Saturday 23rd September the Freedom Centre, Bath Street, will be hosting a number of visiting authors including Simon Armitage, Sheila Hancock and Michael Morpurgo.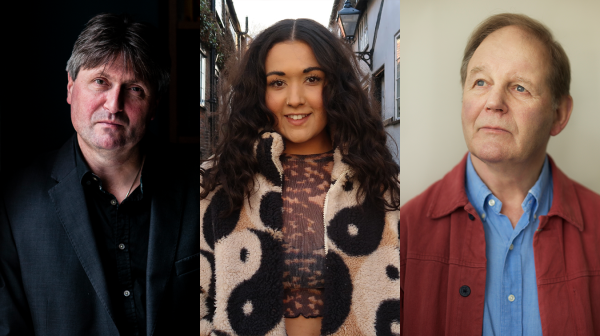 Before the adults move in, thousands of schoolchildren will also be getting a chance to enjoy the newly-renovated 450-seater auditorium, as they attend free events on the Thursday and Friday mornings, with children's authors including Iszi Lawrence, Amara Sage and Jack Meggitt-Phillips. 
Islanders with a knowledge of local history (or, for some, a functioning memory) will remember the Freedom Centre as the old Odeon Cinema, which opened in 1952 and ran for fifty years before closure and eventual purchase by the Freedom Church in 2012.
For the duration of the festival it will be transformed into a literary venue, complete with Festival book shop (run by Fox Lane Books), spacious cafe/bar and interval entertainment.
With a run of free readings, workshops and events for families and children scheduled across the road in Millennium Park, and a range of 65+ events including the best of literary writing talent, the Festival of Words aims to provide a fun, inclusive experience with something for everyone to enjoy.
It's the turn of a new chapter for the Festival; organisers very much hope you'll join them on the page. For a comprehensive list of events and activities happening from the 15th to the 24th of September, please visit the festival's official website at www.jerseyfestivalofwords.org.