The Creative Island Partnership are delighted to be supporting this year's Jersey Surf Film Festival, taking place this coming weekend at the Watersplash.
On the evening of Saturday 8th September, 'POINT OF CHANGE', a documentary feature film from filmmaker, Rebecca Coley, will be opening the festival with its premiere screening in Jersey.
Rebecca began making her film over ten years ago when she visited Nias Island as a surfer. During this visit, she discovered numerous intriguing stories about the island which is situated off the west coast of Sumatra in Indonesia. 
Rebecca's exploration led her to meet Bonne Gea, a young Muslim girl who became the first Indonesian and Asian female surfing champion, and the subject of another of Rebecca's films, 'CHANGING POINT'.
The filmmaker embarked on a journey to meet the first surfers who 'discovered' the wave in the 1970s. As she delved deeper into their story, she learnt that when they stumbled upon the wave, they had no idea about the unforeseen ramifications of their discovery.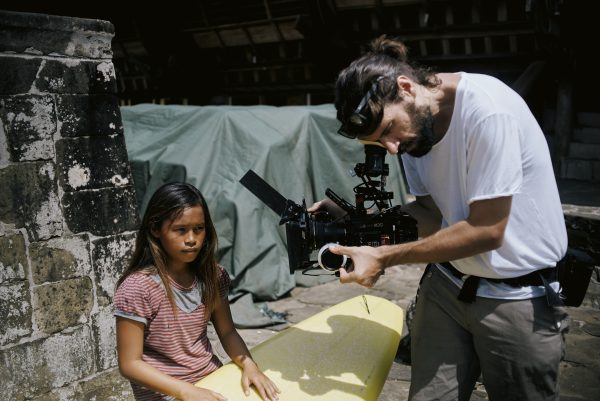 At its heart, this 'POINT OF CHANGE' is a compelling and dramatic tale told through a unique blend of previously unseen Super 8 archive, contemporary interview and beautiful animation, revealing an all too resonant picture of a society changed inexorably by powerful economic & environmental forces outside of their control. 
Many of the creatives involved along the way are from Jersey: Patrick Casey, the sound recordist, Luke Hosty, responsible for filming the surf competition, drone operation, and water footage, as well as Chris Scott and Fred Mayer, who assisted with compositing and visual effects. Additionally, the Observatory contributed to graphics and marketing artwork, PTF Animations crafted a simple animation sequence, and Phil Clyde-Smith handled the trailer edit.
The Creative Island Partnership is pleased to announce their support for the first Jersey screening of 'POINT OF CHANGE'. This marks a significant full-circle moment for the film, involving numerous Jersey creatives throughout its journey to bring the vision to life. 
"We're blessed in Jersey to have so many amazing creatives in such a small place. I'm looking forward to sharing this story of another island with everyone on Saturday night."  – Rebecca Coley
As well as the screening on Saturday, an environmentally conscious beach clean will take place on Sunday morning in collaboration with Little Feet Environmental. Attendees are invited to join in the effort, and afterwards, there will be complimentary coffee and a debrief session, providing people the opportunity to share their thoughts on the film and the festival.
Find out more about the Jersey Surf Film Festival, or go to Eventbrite to find tickets to the 'POINT OF CHANGE' screening.