Connect Me: Jersey Youth Choir – A choir; a group of people singing together in a chorus of voices, often with harmony parts (3-part, 4-part or even more) designed to make the choral songs sound full and colourful! A fantastic option for those who may have always wanted to sing but are perhaps apprehensive about going solo, a choir means you'll be surrounded by like minded individuals who share your passion. Most choirs have a choir leader, the person in charge of leading their practices, as well as providing the choir with training and choosing musical scores.
Cue, John Bowley and his wife Nicki Kennedy, the co-conductors of Jersey Youth Choir, two incredibly passionate musical professionals who are strong advocates of the transformative power of music and singing. Having moved to the island in 2020, John to take up his role as music teacher at JCG and Nicki to run her voice and vocal coaching business, they quickly realised Jersey had limited choral provision for young people, outside of school choirs and occasional events. Rather than simply sitting back and wondering why they set about starting the Jersey Youth Choir, to provide a choral opportunity to children and young people, irrespective of their circumstances or experience, a choir for everyone!
It's been widely reported that the impact of the COVID-19 pandemic was particularly profound for young people, affecting their personal connectedness and of course, it limited their access to music and cultural opportunities. The closure of schools disproportionately affected vulnerable groups such as those receiving Jersey Premium, English as an additional language student, and those with special educational needs or disabilities. Against this backdrop, the Jersey Youth Choir provides a much-needed platform for self-expression, personal growth, and cultural exploration. Through the power of music, the choir promises to uplift the spirits of its participants and inspire a generation of creative minds.
Thanks to receiving a grant from the Connect Me: Connecting our Communities Grant Scheme, The Jersey Youth Choir has been able to minimise costs to its participants so that money isn't a barrier for those interested in getting involved. The Government of Jersey initiative provides grants of up to £5,000 for projects which increase opportunities for Jersey residents to participate in arts or physical activities for wellbeing. Jersey's Youth Choir's grant is one of 88 different projects which have been supported by the scheme since being set up in 2022.
The benefits to the members of the choir extend far beyond simply enhancing their vocal skills too, each session helps to increase the children and young people's social interaction, gives them a sense of belonging and being part of group performances helps to foster confidence too. They also have lots of incredible performances coming up which means there are plenty of opportunities to share the skills they're learning.  The first one of these is an Abba Singalong being held in the St Helier Methodist Centre on Saturday 23September at 7pm, you're bound to know the songs and we're sure it'll be enormous fun! You can find tickets on Eventbrite.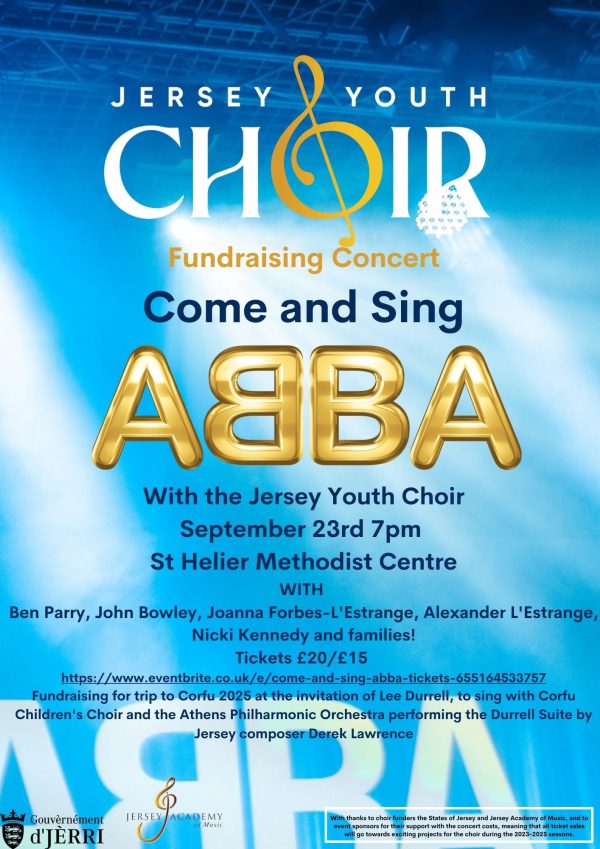 Jersey Youth Choir is aimed at children and young people in school year's five to 13 and they meet every Wednesday at Chateau Vermont in St Saviour between 5.30-6.30pm for the juniors, they then break for choir snacks (we're told this can sometimes be doughnuts…) and the seniors (years eight upwards) stay until 7.30pm.
 If you would like to join them for a trial session email admin@jyc.je
The Connect Me: Connecting our Communities Grant Scheme, which awarded the funding to JSA, is administered by Customer and Local Services (CLS) and uses funds allocated from the Social Recovery Fund, which was established by the Government of Jersey to address the effects of COVID-19 and related isolation on the physical and mental health of islanders.