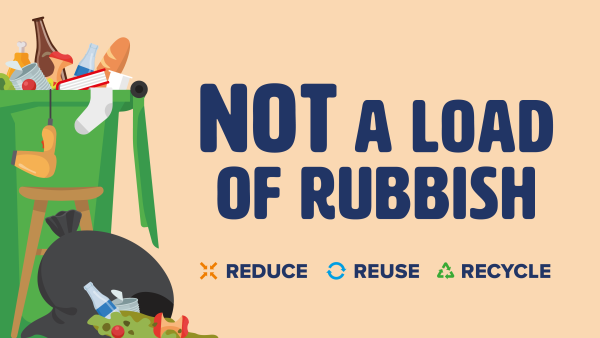 I've not written a blog before, so this is a new experience! I'm really excited by all the latest work of the Sustainability & Climate Change Engagement Team. Hot off the back of our Love to Ride 'Ride into Spring' campaign, we've now launched 'NOT a load of rubbish' which is what I'm blogging about today.

Jersey needs to REDUCE the amount of waste we produce, to help us reach net zero emissions as part of the Carbon Neutral Roadmap. This campaign is a big deal for us, we really want to get people thinking… and more importantly behaving differently, when it comes to shopping and so called 'throwing away'. Can I please remind everyone that unfortunately there is no place called 'away'.

In 2022, we burned 70,676 tonnes of rubbish at our Energy Recovery Facility. We then exported 11,866 tonnes of ash from the Energy Recovery Facility to the UK for specialist recycling. In addition to this ash, everything that we collect for recycling in Jersey is sent for recycling processing.

People always want to talk about recycling, it's often labelled 'the solution for pollution', but in reality that is something we all say to justify consumerism. While it is very important, recycling isn't actually the best thing we can do.

We want to get people just as excited about reducing waste as they are about talking about recycling! We work to what we call the 'waste hierarchy'. It prioritises how we should best manage our waste. I'm sure you're familiar with the saying reduce, reuse, recycle.
But that is the order of how we should think about our waste. So, reduce what you buy; reuse what you've got, and then recycle what's left. In that order. Simple.

We had a rummage in some bins and have found out that the average Jersey household bin contains:

Kitchen – 35%
Paper and Card – 23%
Plastic – 14%
Garden -7%
Other -7%
Textiles – 4%
Metals – 4%
Glass – 4%
Waste electrical and electronic equipment – 2%

Does that sound that about right for your bin? What can you do differently? We've got ideas and suggestions on: gov.je/wastereduction.
If you're lucky enough to have a garden, then we're also helping reduce food waste with our discounted food waste digesters. Check out the Great Green Systems website for more information or to order yours!