Yesterday marked International Women's Day, a global day celebrating the social, economic, cultural and political achievements of women and this year's International Women's Day calls to #PressforProgress – a call to action to progress gender parity.
Under the 2018 theme of #PressforProgress, International Women's Day aims to motivate and unite friends, colleagues and whole communities to think, act and be gender inclusive.
Here at the Information Services Department we're passionate about encouraging young people into the digital industries and as a woman, I'm especially passionate about encouraging young women into digital roles. My colleagues in the Digital Delivery Team and I manage all aspects of the Gov.je website, our staff intranet known as 'MyStates' and many of the online services our customers interact with.
This year I wanted to help challenge the idea that digital jobs are just for the boys. In fact my team is 60% girls, but Island-wide the figure is closer to just 15% of women in digital jobs.
Women in Tech
I'm not a lone voice in this conversation about encouraging other women to consider a career in technology. The inaugural meeting of the Jersey Women in Tech group took place in November 2016. The group's objective is to encourage more women into the digital industry. They meet quarterly at the Digital Jersey Hub if you want to get involved.
Anna Milon, a Senior Consultant at local technology provider C5 Alliance, has spoken to girls and women across the Channel Islands. Read Anna's blog 'Empowering Women to Take on Tech'. And Claire Boscq-Scott of The Busy Queen Bee is organising a 'Women Networking Workshop' on 28 March 2018.
How we marked International Women's Day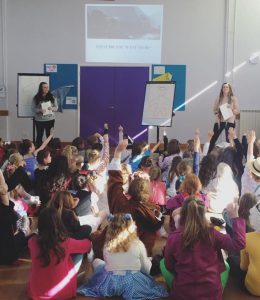 We did a variety of things to celebrate. Our aim was to communicate to girls and women in Jersey about the opportunities in the digital sector and to help raise some vital funds for important causes:
we visited Beaulieu Convent Primary School and talked to years 4 to 6 about careers in digital or tech and showcased some of the inspirational women in our department
we tackled a '6k-a-Day' challenge over the course of a week in solidarity with those women in Africa who walk on average 6km a day to collect clean water
we asked our colleagues to nominate an inspirational woman that they work with (and treating them with a gift)
We donated all proceeds of our '6k-a-day' challenge to charity (Sankalp Charitable Trust).
We're also supporting a cause close to home with a staff raffle.
Wear purple on International Women's Day
We all dressed in purple on Thursday 8 March, and here's why;
"Internationally, purple is a colour for symbolising women. Historically the combination of purple, green and white to symbolise women's equality originated from the Women's Social and Political Union in the UK in 1908. Purple signifies justice and dignity. Green symbolises hope. White represents purity, but is no longer used due to 'purity' being a controversial concept. The introduction of the colour yellow representing a 'new dawn' is commonly used to signify a second wave of feminism. Thus purple with green represents traditional feminism, purple with yellow represents progressive contemporary feminism."
Source: International Women's Day
#PressforProgress leaflet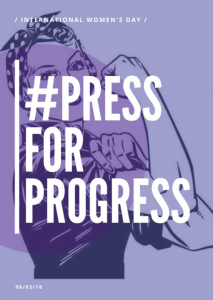 We have put together a leaflet showcasing some of the women from Information Services, their roles and advice for anyone considering a career in the digital sector.