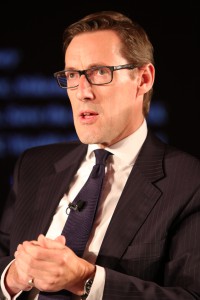 As we approach the debate on the Medium Term Financial Plan Addition I have been reflecting on its overall aims in light of feedback and questions over recent months, and in view of the independent assessment we have now had. It is fair to say that every aspect of the plan has been scrutinised and reviewed. People have asked difficult questions about our approach and challenged us to think deeply and proceed carefully.
We understand the concerns about the proposed charges and other income generating measures. However, the top 20% of taxpayers pay 60% of total income tax received, and 30% of households are below the threshold and do not pay any income tax. These 30% will not be asked to contribute to the health charge and only the 10% of taxpayers on the standard 20% rate will pay the full 1% contribution. This plan finds the right balance, and protects low earners who need support.
We have also heard people's concerns that the public sector is not cutting its costs quickly enough. It is worth remembering that since November 2011, through the Comprehensive Spending Review, successive budgets and public sector reform, £85 million has been taken out of department budgets; £38 million of that in 2016. And this plan continues that important work.
We have listened to people's concerns over zero-ten and taken extensive advice from experts who continue to tell us – a rate of zero is absolutely essential for Jersey to remain attractive as an international finance centre and to support the jobs of nearly 13,000 islanders. Taxing financial institutions at 10% is also necessary to stay competitive – all the more so with the U.K considering reducing its corporate tax rate to 15%.
Jersey's diverse financial services industry includes banking, trusts, fund management, company administration, legal firms, accountancy firms, investment advisory services and the servicing of a wide range of corporate vehicles. Together these are significant contributors to the local economy and most Island residents benefit either directly or indirectly from the success of the finance industry, which needs stability and certainty in order to thrive. Government will not make changes to a business tax regime that could jeopardise its internationally compliant status.
While we do keep opportunities under review, it is critically important that any moves to adapt our corporate tax regime – as Guernsey has done with its so-called "Tesco tax" – are made only after extensive research and with all the necessary data that we are in the process of gathering. This is a time for stability, not for changes in a tax structure that has kept Jersey in a good position to attract business and maintain employment, in contrast to the experience of other economies. Our best interests are served by remaining constant in a time of uncertainty.
Compared to many other places, our economy is performing well – we have considerable reserves, minimal debt and assets of nearly £6 billion. However there is no perfect solution to the economic and demographic conditions that Jersey, and the rest of the world, now faces. One thing is absolutely clear – any delay or inertia would leave our island vulnerable during a time of potential volatility that has been made more complex by BREXIT. We must take action, we must maintain our stability and remain focused on the aims of our Strategic Plan.
The package of proposals in this plan prepares for the future by focusing available funds on priority areas. It is concentrated on improving Islanders' lives, particularly the more vulnerable, by investing in key public services and recognising the need to boost economic growth and diversification, essential for creating the jobs and the income we need.
Our priority areas are clear – health, education and St Helier, while also upgrading our essential infrastructure, supporting the economy and keeping spending under control. These measures will enable our economy to generate the income we need for our most important spending measures:
an extra £40m per year for Health and Social Services by 2019
additional annual funding for Education of £11 million from 2019
£168 million for capital projects including £55m for school buildings, £43m for sewage works and £21m for IT systems
additional funding of £13.5 million throughout 2017-2019 to support local industries and our post-BREXIT work
Across the public sector all departments are doing their bit. Everyone is being asked to reprioritise and find efficiencies, to make sure that government becomes fit for the future and that money is spent on essential services.
The independent Fiscal Policy Panel has validated the approach we have taken to our plan. This group of renowned economists has confirmed that our intention – to support the economy in the short-term, invest in services and infrastructure that support growth in the medium-term, and balance our books when it is most appropriate – is the right one, and needs to be delivered as planned.
This financial plan will put Jersey on a path to more secure and sustainable finances. This is a plan which is focused on raising living standards for everyone, while protecting the least well off. It is a plan that will lead us to balanced books and give us the best prospects of economic growth in light of the global markets.
In an uncertain world we have the opportunity to maintain certainty, with a clear, independently endorsed plan that meets the challenges we face and invests in our future.