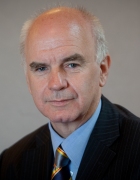 Jersey's Health and Social Services Department is effectively one of Jersey's largest businesses, although it is not often considered in such terms. With a budget of more than £200 million a year and around 2,700 employees, we deliver a range of services covering the hospital, mental health, community and social work, and public health.
At a time of tight public finances, our health system – like most others – is facing major pressures:
an ageing population (there are now 16,700 Islanders over 65; by 2035 there will be 28,000)
public health challenges like obesity, diabetes and dementia
growing costs of medicines and treatments
ever-increasing public expectations
But Jersey is rising to the challenge. In the Strategic Plan 2015-18, the Council of Ministers set out its ambition for Islanders to live healthier lives, with access to high quality, sustainable health and social care.
Extra investment
To meet this aspiration, the medium-term financial plan (MTFP) allocated up to £40 million per year of extra funding for Health and Social Services by 2019.
To ensure that this investment delivers the best returns, we have already embarked on an ambitious programme of change, involving the redesign of the our health and social care system to ensure that it continues to be safe and affordable into the future.
Effective 'out of hospital' services are now helping to avoid unnecessary admissions and are supporting speedier discharge for those who no longer need to be there. Our rapid response and re-ablement team and 'step up step down' beds allow people to avoid coming to hospital in the first place or to be safely discharged sooner
Community provision
In effect, we are taking some of the care out of the hospital and into people's homes, where personalised packages can help older people regain their confidence and get back on their feet.
We are embarking on these initiatives with our partners from primary care (GPs, pharmacists, dentists, opticians and community nurses) and from the voluntary, community and private sectors. Without these changes we would need many more beds in the future hospital, adding substantially to its costs.
Reducing pressure on the hospital is also about educating us to live healthy lives. Preventable diseases due to poor diet, lack of physical activity and drinking too much are among the fastest-growing challenges we face. There can be no let-up in efforts to encourage us all to take personal responsibility for our own health and wellbeing.
Mental health
We are also giving higher priority to mental health services. The funding through the MTFP reflects this. The new mental health strategy, developed in consultation with stakeholders and our community and voluntary sector partners, will be shared with Islanders in the near future.
A number of initiatives are already in place – Jersey Talking Therapies, which offers treatment for people with anxiety and depression, has been particularly successful. Support at an early stage is proven to help individuals recover and avoid the need for more intensive support later.
Good progress is also being made in reforming the Child and Adolescent Mental Health Service, where waiting times have been transformed.
And a place of safety is being established on Robin Ward at the hospital, so young people are no longer held in police cells.
Sustained improvements are now apparent across children's services. Much work remains to be done and the investment in the MTFP will facilitate this.
Hospital
I welcome the necessary investment in the current hospital and in the staff whose commitment to provide the best healthcare to Islanders is second-to-none. Work is well underway on the two temporary hospital operating theatres, for example. These should be installed by January 2016 and the work on the existing theatres completed by January 2017.
I'm pleased that the States have recognised the importance of nursing and have supported investment in more than 120 extra nursing posts over the last four years. We are continuing to work on ways to recruit more nursing and midwifery staff from the local population.
An acute service strategy will soon be published, setting out how we are going to meet the challenges presented by future demand and by the expectations Islanders rightly have of high quality hospital care.
Soon I hope to announce the preferred site for the future hospital. This has taken longer than expected, but a decision on the most expensive and ambitious infrastructure project the Island has seen cannot be rushed. We need to get this right for future generations.
Financial management
While health spending continues to increase, my department is not immune from the financial challenges facing the island. The department takes a proactive approach to financial management and has pioneered the use of LEAN methodology across the States.
Our Safely Reducing Costs programme is challenging traditional thinking and looking at efficiencies across all the services we deliver – without compromising patient safety.
Investment in healthcare is essential to our economic future. A reliable, high performing and efficient healthcare system is every bit as important as good schools, beautiful beaches and a well-regulated financial services sector. It is one of the key ingredients that make Jersey such a great place to live.