When the Council of Ministers lodged its proposition to support offshore wind development, I said, in the States Assembly, "we now have a period of time to explore this idea, to challenge each other and debate the merits".
Big infrastructure decisions are always contested, and so they should be. People view them differently, often as a reflection of how they see the world and its future; and they create big and lasting impacts.
This informed, public debate is very important to me because it strengthens both our democracy and the foundations of the offshore wind project.
As our public meetings and Parish drop-ins start this week, and our local consultation gathers momentum, I wanted to make a few points that I think are important to how Islanders view our proposals.
Inward investment
Developing offshore wind is not an either/or choice. We are not doing this instead of other energy or environmental projects – Jersey will continue to rely on some electricity from France and we'll continue to explore other low carbon energy alternatives such as tidal and solar. But at the moment, we believe that a large scale offshore wind project can attract inward investment and it would deliver multiple benefits for Jersey. If we can't attract inward investment – say because a wind farm in our waters is not economically viable – the project will not move forward.
Natural resources
We believe our stable governance and the natural environment of our south-west waters make Jersey an attractive place to invest in offshore wind. Again, we will be testing this with feedback from investors and developers over the coming months. We have also published a high-level feasibility study that sets out more detail.
We should look around and take confidence from what out near neighbours are doing. Beyond the c.500MW St Brieuc project we see from Jersey, the Centre Manche 1 + 2 projects are targeting a further 2,500MW off the northern coast of Normandy, and other developments are beginning to ring the French coast, as shown in the diagram below.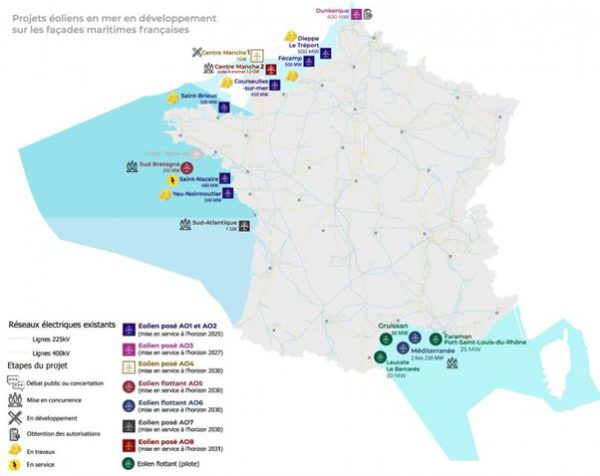 France has a target to generate 40GW of offshore wind power by 2050, so I am confident that we will see further French investment in waters surrounding the Channel Islands and, inevitably, some of those developments will have visual impacts on Jersey. I really do not want to see Jersey surrounded by other peoples' windfarms to little local benefit. We can have visible wind turbines and no benefit to Jersey, or visible turbines with significant economic and other benefits for the Island.
A global business
We should also take confidence from the scale of global interest in offshore wind. This is not a niche pursuit – we are targeting a tried and tested product that is market ready.
Mckinsey predicts offshore wind generation will reach 630GW of installed capacity by 2050, up from 40 GW in 2020; an increase of almost 1,500%. Investment in offshore wind reached a record $185 billion last year and is expected to grow further, and we are seeing more and more companies like BP, Shell and TotalEnergies – many of which Islanders will be invested in themselves, directly or through pension funds – all choosing to put their money into offshore wind.
These are not just big numbers – and not everything the energy majors do is good for the world – but this scale of investment brings innovation, efficiency and improvements that constantly reshape what can be achieved and how ambitious we can be for our project.
I know Islanders are concerned about the environmental impacts of turbine construction and operation, and about their decommissioning and the potential to recycle blades. I am concerned about these things too, and I am committed to robust environmental impact assessment and mitigation before a wind farm is given the go ahead. It is heartening to know that already 95% of a wind farm's materials are recyclable. What's more, it is now becoming clear that old wind farms can be repurposed with new turbines, extending their life further.
As further evidence for this optimism, I look at the work of the National Composite Centre, pioneering technology to extract and reuse carbon fibre from end-of-life materials (in this case aeroplanes). Or the ambition to target biodiversity net gain for the North Sea, despite the planned density of wind farm development there.
This scale of global investment will also change the costs and benefits of offshore wind in ways that make it hard to assess right now.
Along the way there will be ups and downs, because nobody gets it right all the time. Governments will sometimes need to adjust their approach, like the UK increasing its strike price cap last week, as will companies where they encounter problems, such as the quality control issues experienced by Seimans Gamesa recently.
But none of these individual facts mean that offshore wind is not a viable and realistic plan for Jersey. They do mean we need to go ahead with our eyes and ears open, and that we should all continue to debate the merits of offshore wind, to make the right choice for the future of our Island.
I hope you will join us at one of our consultation sessions to do just that.