A YouGov poll in December 2014 found that three percent of people gave up on their New Year resolutions the very day they made them. By February nearly a third of people will have ditched their good intentions. Whether you're succeeding with your personal goals or not, January is often a time to review and reset your business goals for the year ahead. Read on to discover why eco active business should feature in your plans for 2016, if it doesn't already.
What's involved?
2015 saw the eco active business programme completely revamped. Our membership process has been made more simple and the type of support we can offer has increased. Joining eco active business is now manageable for any business, the key requirement is a willingness to participate and improve. Advice, support, action are the focus of our network.
Once you're signed up we want you to take part, which is why we introduced an events programme in 2015 that we aim to expand this year. This free source of information will provide your business with ideas to help you improve. In the most part, we ask fellow members of our eco active business network to share the good practice ideas they have already put into action. We also bring over expertise from the UK to share new ideas and knowledge.
What are the benefits?
As well as being a free source of knowledge, eco active business is Jersey's local environmental good practice standard. As a Department of the Environment initiative we have given careful consideration to what that standard should be. Too high could be unrealistic, too low would be meaningless – what's the point of an eco active badge of honour if anyone can have it? To meet the standard you have to prove that you're compliant with environmental laws and set two actions for the year ahead.
Once you have joined eco active business you'll be encouraged to use our branding. By doing so you are demonstrating to potential customers and clients that you are meeting the local environmental good practice standard.
Being eco active can also help you win business. Several States of Jersey tenders now require eco active business membership as a pre-qualification requirement. We have also heard of our eco active business members including environmental credentials within their contracts. If you provide an environmental product or service, we will soon be launching our 'Supply Chain' listing. It will be a one stop shop for providers of environmental solutions, helping to get your brand recognised.
We recognise that environmental credentials are not the only factor when making a purchase – but if you had the choice of two equal products would you favour a green choice over a 'typical' option?
How do I join?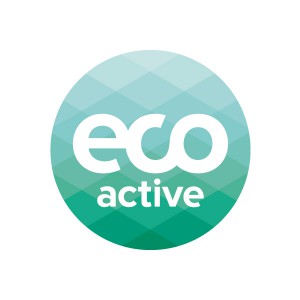 All businesses need to submit two key documents. The first is a checklist to ensure awareness and compliance with all local environmental legislation. Business as usual we would all hope, but when did your business last carry out such a check? We have developed a simple 'Yes / No' question and answer document to guide your business through the laws, with support available should the process uncover something you are unclear on.
The second membership document asks you to make improvements – again, something that the majority of organisations strive for as business as usual. All businesses must set two actions per year. At the end the year we will ask you to tell us how you did, and then set two more actions for the following year. One action should be focused on energy or carbon emissions, with the other action focused on any other environmental area.
Setting two actions was seen as manageable, and over the years this step by step approach effectively builds up into a full 'environmental action plan'. Being very specific on what your priorities are helps us to determine the support that we can provide throughout the year. We look at all the actions set by our members and develop support relevant to the topics that you are interested in.
A new resolution?
The old saying is, 'It's not easy being green'. Although this can be true, it's certainly far easier to achieve your goals if you've got a support network alongside you. If you want to make environmental improvements in your business, eco active business is that support network. So instead of aiming for 100 push ups a day, why not set a new resolution for 2016 that you can actually keep – join the eco active business network!